Eternity Acres Pet Crematory
We understand your pet is and will forever be your family member. Losing a pet is difficult and our greatest desire is to honor your pet for you forever. The journey your family and pet shared gave you love, joy, and peace. While walking with you through this difficult time, we feel challenged to help you celebrate these incredible attributes your pet selflessly gave you.
Eternity Acres will honor your beloved pet with love, care and respect.
Eternity Acres Pet Crematory offers its services out of love, care and respect. Our pets are every bit a part of our family as humans are. We understand this and choose to do all that we do out of love.
Throughout this process, your loved one will be provided professional care from pick-up to return. We understand the worry some pet owners might have with the remains of their beloved pet. Rest assured, all steps are meticulously planned to provide gentle care for your pet.
Respect is given to both you and your pet. It's our promise to you. We know the grieving process can be difficult, but we will do our best to assist you in anyway we can.
At Eternity Acres we know the loss of your faithful friend and family member is a traumatic experience. We are here to help you through this difficult time by offering a caring and dignified cremation service.
Eternity Acres is open to the public. Complimentary pick-up and delivery to your veterinary clinic within a 20 mile radius from our office. You may also choose for us to pick up and return your pet to your residence for a fee of $25 for pickup and $25 for delivery. You may also bring your pet to us, by calling in advance to ensure one of our staff is one site to assist you.
Eternity Acres offers private cremation services. This means that each pet is cremated one at a time. This ensures that you will only receive your pets remains.
Each pet is issued a unique cremation ID tag, which will follow your pet throughout the entire cremation process. If you chose the cremation package, you will receive your pets remains in a beautiful urn provided by Eternity Acres. You will also receive an ink paw print, a clay paw print, fur clip keepsake, and cremation certificate.
As a courtesy, family and friends are welcome to witness the cremation from within our office by scheduling an appointment. All cremations are performed on site at our crematory. A cremation certificate will be issued upon completion of the cremation. If you choose Eternity Acres, we will treat you as family and your pet as one of our very own.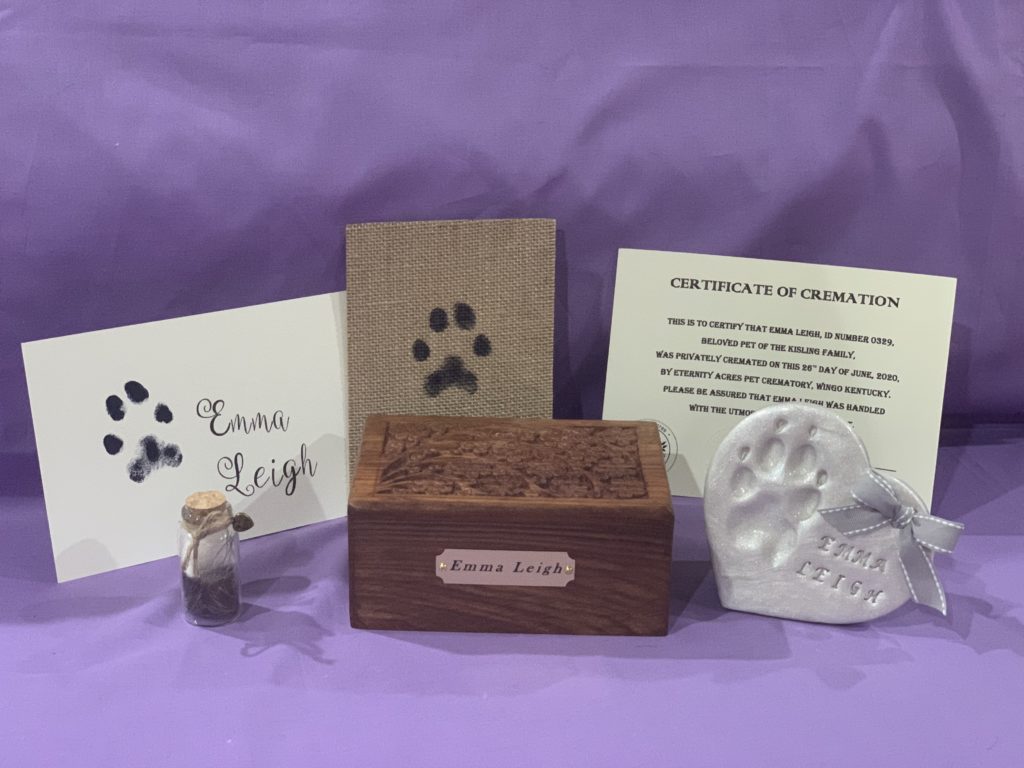 "Animals are reliable, many full of love, true in their affections, predictable in their actions, grateful and loyal. Difficult standards for people to live up to."
Remember Your Special Pet
We know how special your pet is to you and your family.  Remember your pet with one of our special pet cremation memorial items from our online store .
Have questions?  Looking for additional information?  Please feel free to reach out to us by phone or email.  We look forward to talking with you.
Phone
(270) 376-2247
Hours 
Monday-Friday 9am-4pm by appointment
Saturday and Sunday Closed
Available for emergencies after hours
and on weekends
Address
199 Hollifield Cemetery Rd.
Wingo, KY 42088