CREMATION PACKAGE
Includes local pick-up and
delivery from your Veterinary Clinic, urn, ink paw print, clay paw print, fur clipping keepsake, ID tag, and certificate of cremation.
0-25 lbs – $233.20 | 26-50 lbs – $259.70
51-100 lbs – $286.20 | 101+ lbs – $312.70
ADDITIONAL ITEMS
Custom engraved nameplates, key chains, jewelry and grave markers
CREMATION ONLY
Ashes will be returned in a velvet bag.  Includes Ink Paw Print.
0-25 lbs – $169.60 | 26-50 lbs – $196.10
51-100 lbs – $222.60 | 101+ lbs – $249.10
ADD WALNUT URN WITH NAME PLATE FOR ASH RETURN – $35
PRIORITY CREMATION – $50
Our standard time is about 7 days. This fee applies if you require same day service.
STORAGE FEE – $15 Per Day
This fee applies when a pet is held longer then 3 days at the owners request.
RESIDENTIAL PICKUP – DELVERY SERVICE –
Available for $25 for pickup and $25 for delivery within 30 mile radius
Document Disposal – $1.00 per lb
We will incinerate all private and important documents from a business or individual.
Papers can be delivered to the office or pick up is available with a 50 lb minimum.
We accept cash, check or credit card.  There is a 3.5% processing fee on credit card payments.
Please call the office to schedule.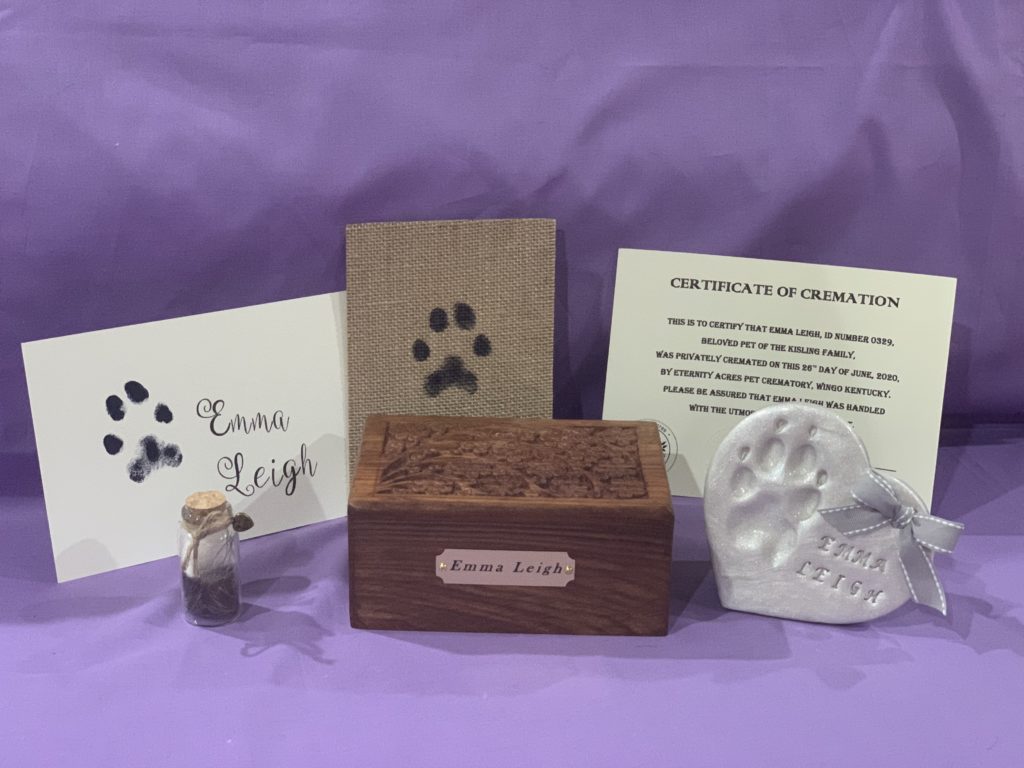 Have questions?  Looking for additional information?  Please feel free to reach out to us by phone or email.  We look forward to talking with you.
Phone
(270) 376-2247
Hours
Monday -Friday 9am-4pm by appointment.
Closed Saturday and Sunday
Available for emergencies after hours 
and weekends.
Address
199 Hollifield Cemetery Rd.
Wingo, KY 42088